產品
Introduction
VERQUARE-531 Inorganic Water-based Ceramic Resin can be prepared by a modification of the patents of NASA. There are many silicic acid units in the resin. It is a solid material made of two components by reaction. Water-based inorganic silicate ceramic resin and zinc powder, the two main crude materials, interact to form a silicate zinc network polymer which is capable of forming a hard coating. This product has a molar ratio up to 5.7 and has a performance better than other similar products. It dries within twenty minutes or solidifies completely on steel surface within two hours. It bears the effects: cathode protection, physical screening, and heavy protection of steel from corrosion.
Application range
Heavy protecting steel structure, wharf facilities, bridges, boats, sea exploring and mining platforms, coal well facilities, oil storage troughs, and transport pipeline from corrosion, greatly better than the average paintings.
Main characteristics
1. It is water-based and non-toxic; it has no ignition point and contains no VOC; it does not pollute the environment and does not harm the human body; and it can be stored and transported without danger.
2. The dried coatings bear an excellent resistance to corrosion, temperature, seawater, oil, solvent, and salt fog, and have a high hardness, no flash point, and strong adsorption. Correct practice can keep from corrosion for more than fifteen years.
3. It has an instant heat resistance up to more than 800℃ and a long term heat resistance up to 400℃. It conforms to the safety standards of fire fighting. It has a heat resistance up to 1200℃ if a suitable inorganic pigment is added.
4. The adsorption of coating is strong, up to 1000 CBS per square inch, and high than 7H in hardness.
5. The reaction with zinc powder produces rapidly a silicate zinc network polymer and a continuous coating. The speed of drying is fast. (It dries within twenty minutes at 25℃ or solidifies completely within two hours.)
6. It has an extremely low viscosity below 50CPS; it saves much crude materials; it is capable of receiving much zinc powder. There is an amount of zinc powder more than 90% in the dried coating, thus enhancing the effect and time length of protection.
7. It is feasible to coat many times. The fresh coating can combine automatically to the previous one. Local damages do not propagate and flake coating off. The fresh coating can still combine with the coating around the damages.
8. It is an inorganic painting. No color change, no breaking, no powdering, or no cracking occur even under the radiation of ultraviolet. It has a resistance to the climate better than organic paintings.
9. It does not contract during its drying and solidifying. It is able to adapt to various surfaces.
10. No damages occur on the coating during cutting or welding. Welding quality does not change even if there is a coating present.
Precautions
1.In preparation the ratio of zinc powder to the water-based inorganic ceramic resin should be 3:1. ( zinc powder in 325 mesh is required) The zinc powder is added slowly into the water-based inorganic ceramic resin by homogeneous mixing. The mixture is then filtered with a 40 mesh screen and the filtrate is used.
2.Steel surface should be treated by sand blast to sa 2.5 on the GB8923-88 rules and the roughness 37-75µm.
3.The steel having qualified surface after sand blast is transferred to coating site and there coated within 4 hours.
4.The steel surface ever treated with sand blast should not be contaminated with oil and grease during its transfer. When necessary, the steel should be isolated. The steel with rust or secondary contamination should be treated again.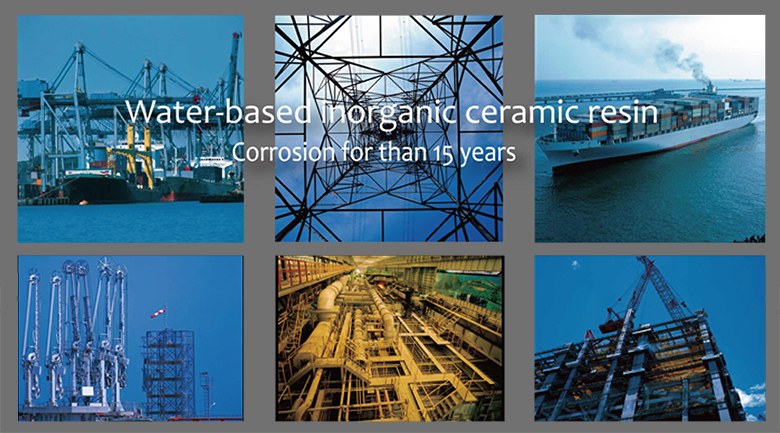 產品問與答
其他相關商品: